Bitrix24 - how to choose license?
Why Bitrix24 On-Premise is more beneficial
than Cloud?
Let's CONSIDER THE BENEFITS AND COSTS OF each version
If you doubt about the choice between the Cloud and On-Premise Bitrix24 or have already decided to move to the On-Premise version, we propose to calculate the real costs of these actions. 
Let's go through the most important points before choosing the type of license or portal migrating, and also consider which is more profitable - On-Premise or cloud version?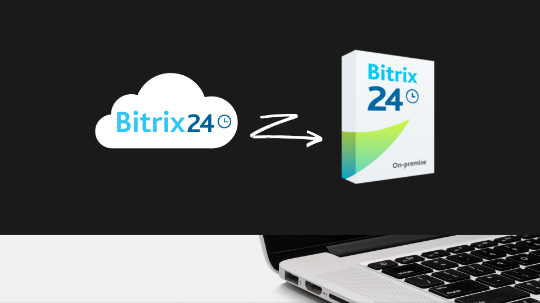 1. LICENSE 
There are 3 types of On-Premise licenses:

When migrating, it is important to take into account the number of active users of your Bitrix24 Cloud: the number of people should not be more than the one offered in the On-Premise license. 
At any time you have the opportunity to increase the number of active users: just upgrade to a higher tariff, paying only the difference between licenses. 

2. SERVER
The main difference between On-Premise version and Cloud is the purchase of a server where your portal will be located. 
 And then there are 2 options:

PLACE A SERVER ON YOUR OWN INFRASTRUCTURE
CHOOSE HOSTING PROVIDER
Support.pl offers the following solutions to our clients:
You can deploy Bitrix24 on a virtual (cloud) server or set it up on a dedicated server.
All migration works our specialists will perform for FREE,
if you buy a Bitrix24 license from Support.pl 

NOTE: You can only move to an active Bitrix24 commercial key, so you need to purchase the On-Premise license before migration. 
Next, the specialist requests a backup from Bitrix24 technical support. It takes 1-5 business days to prepare a backup, depending on your data in Cloud. 
After the backup is ready, you can deploy Bitrix24. After technical works, you will receive an exact copy of all Bitrix24 data along with the database, public files and the corporate portal software core. 

DOES THE ON-PREMISE VERSION WIN BACK?
According to statistics, the payback period for the boxed version of Bitrix24 is 2-3 years.
To confirm the words, let us turn to the editions comparison.

Editions of the On-Premise version include all the features of the "Professional" cloud tariff
Therefore, we will compare it with On-Premise licenses such as "Bitrix24.CRM" and "Business 50".
Server parameters are calculated based on the purchased license, the number of users and tasks 
Support.pl offers its clients the necessary server for the "Business 50" at a cost of $50 / month ($600 per year). Learn more about web-hosting tariffs for Bitrix24 -
BONUS! You get 1 month of hosting for FREE,
if you buy any On-Premise version from us.
Total costs for Bitrix24 licenses change in this way:
CAN I MAKE THE migration BY MYSELF?
We often receive requests from companies that tried to independently transfer the cloud to the On-Premise, but the move was unsuccessful and there were difficulties and errors. 
Therefore, we advise you to entrust all these delicate migration work as well as configuring and launching the On-Premise version to our specialists.

LEt's have a talk on bitrix24 in your company
please, fill the form and we will contact you.
If you are ready to get a professional support and consultation on Bitrix24, please, take a look on our services. 
Learn more about our services