BITRIX24 TRAINING, CONSULTATION AND SUPPORT

FREE
BITRIX24 ECOSYSTEM INTRODUCTION
FREE
EXTENDED BITRIX24 FUNCTIONALITY
FREE

When you purchase Bitrix24 Cloud or On-premise license from Support.pl you are getting the complete bonus package allowing you to start working with your CRM immediately. We introduce you to Bitrix24 ecosystem by providing free Bitrix24 training, free support and consultations on Bitrix24 tools. 
With our special bonus program offer you will start using Bitrix24 portal with the most effective and productive impact on your business!

BITRIX24 TRAINING
AND CONSULTATION

1. Bitrix24 functionality training for your Team
2. Consulting and recommendations using Bitrix24 tools for your Company






1. Access to Bitrix24 knowledge base with user cases, videos, manuals, FAQ's
2. Bitrix24 Q&A sessions in the chat or by e-mail





EXTENDED BITRIX24 FUNCTIONALITY
1. All our BITRIX24 applications are free for the Bitrix24 purchased subscription period
2. Free Sales process funnel setup in CRM
3. 10% discount on implementation working hours rate


READ MORE
BITIRX24 TRAINING
Our comprehensive Bitrix24 training will help your employees to get familiar with basic Bitrix24 functionality: to use all major CRM functions, create events in Сalendar, set and report Tasks, participate in Сhats and Working Groups and operate with Bitirx24.Drive.
CRM module:
lead processing, customer support in deals, adding products, standard reports
Tasks module:
creation, control of deadlines, reminders, task templates, linking with CRM elements
Calendar module:
creating an event, "My calendar" and "Company calendar", access rights, calendar synchronization with third-party programs
Working groups module:
the difference between working groups and projects, types of working groups
Bitrix24.Drive module:
file exchange, "My disk" and "Company disk", assignment of access rights
Chats module:
features, functionality, examples
AVAILABLE APPLICATIONS FOR FREE INSTALLATION
We extend functionality of Bitrix24 portal with our custom applications. Please choose the applications and our specialists will install them on your portal with 1 year free license for free as a bonus. For a full list of available applications please visit the link.
Frequently Asked Questions
What is the lead time for the Bonus package?
The project schedule is agreed during the first imeeting. We expect everything to be installed and provided in about 3-4 weeks.
3-5 meetings will be held with the Client.

What is included in the post-sales support?
Basic support will be free during your subscription period. You can send us questions by e-mail or schedule and join the individual online Q&A meeting with our specialists.

If you are looking for more specific support. If you need Bitrix24 support at a higher level please check our support plans.

ABOUT US
We provide Business analysis, Business Management Customization, Competent Bitrix24 Support, Trainings and Hosting, Apps development for portals and integration of Bitrix24 (both Cloud and On-Premise) with third-party systems for companies all over the world.

We designate and automate business processes of your company implementing Bitrix24 according to your business specifics. 
Software development is a fundamental component of our business competency. We create web and mobile products for e-commerce and corporate business tasks.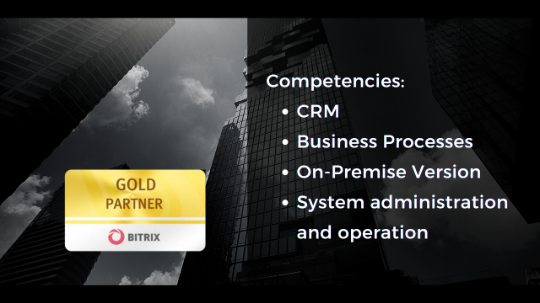 15
Years
of experience in IT and business solutions area




Top-10
in the world
in the global ranking of Bitrix24 partners

1000
clients
up to 1000 clients chose us
including companies with >1000 employees
>500
projects
from different industries
were supported
by our team